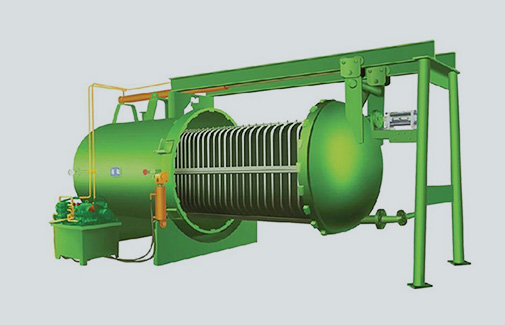 Horizontal Leaf Filter
WYB series horizontal leaf filter is a precision clarification equipment with high efficiency, energy saving and automatic airtight filtration. The filter leaf adopt a special stainless steel filter screen, which has long life, large output and high precision;
Product Description
WYB series horizontal leaf filter is a precision clarification equipment with high efficiency, energy saving and automatic airtight filtration. The filter leaf adopt a special stainless steel filter screen, which has long life, large output and high precision; mechanical vibration automatic slag discharge, suitable for decolorizing oil filtration, clarification filtration, crystal filtration and separation processes in the production of oil, chemical, pharmaceutical, food and other industries , Especially to solve the problems of cottonseed, rapeseed, castor oil and other squeezed crude oils in the oil industry, such as difficult to filter and difficult to discharge.
Working Principle
This machine belongs to the filter press equipment, filter pump the filtrate to be pumped through the inlet tube into the tank and filled. Under the action of pressure, the solid impurities in the filtrate are trapped by the filter on the filtrate, and a filter cake is formed on the filter. The filtrate passes through the filter screen and enters the liquid outlet pipe and flows out of the tank, thereby obtaining a clear filtrate. With the increase of the filtering time, more and more solid impurities on the filter screen make the thickness of the filter cake continue to increase. When the internal pressure rises to a certain value, it is necessary to discharge the slag and blow dry the filter cake. Pull out the filter plate to start the vibrator, make the filter plate vibrate, and shake off the filter cake on the filter screen.
Parameters
Filteration area (m2)

Diameter series(mm)

Working pressure

(Mpa)

Working temperature

(℃)

Capacity (T/h.m2)

5,10,15,20,25,30,
35,40,45,50,60,70,
80,90,100,120,140,
160,180,200

900,1200,1400,1500
1600,1700,1800,2000

0.4

150

Oil-fat

0.2

Beverage

0.8
Features
1
Fully enclosed filtering, pipeline connection, the product is non-volatile, no leakage, and no environmental pollution.
2
The filter screen is automatically pulled out of the structure for easy observation and cleaning.
3
Double-sided filtration, large filtration area and large residue capacity.
4
Automatically discharge slag by mechanical vibration, open the butterfly valve to discharge slag by vibration, and reduce the labor intensity of workers.
5
Hydraulic control, automatic operation, good filtering effect, low loss.
6
The hydraulic cylinder of the flaking roll increases the energy storage of the accumulator to realize the buffer rolling, the flakes is more stable and longer service life;
7
The equipment can be made into a large-capacity, large-area filtration system.
Welcome To Visit The Factory!
Zhengzhou Dingsheng Machine Manufacturing Co., Ltd. has its own manufacturing factory. The company integrates design, manufacturing, installation, and commissioning, scientific research, sales and after-sales service. It has strong processing capabilities of various types of oil pretreatment, leaching, refining and separation equipment. The equipment is environmentally friendly and energy-saving, and the oil output rate is high. The professional engineer team will tailor the plan for you. Welcome to visit the factory!