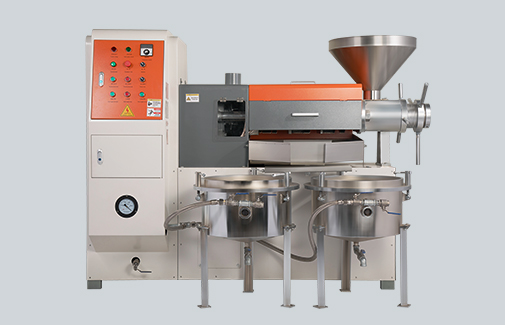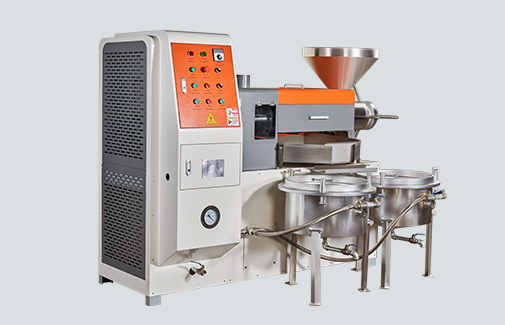 Newly Upgraded 6YL-Series Oil Press
Our latest innovation model 6YL-series oil press machine, - a newly upgraded oil press machine promises to boost production efficiency and improve the service life. Make an inquiry now.
Description
Newly Upgraded 6YL-Series Oil Press



Dingsheng are committed to providing you with high-quality, efficient, and durable oil press machines that meet and exceed your expectations. Try our upgraded oil press machine today and experience the difference!
The oil press machine is composed of five major parts: the frame, the housing, the press cage part, the control system, and the vacuum filtration system.
The frame is welded by the large CNC milling machine to ensure that the flatness of the frame reaches the standard and the coaxiality of the press cage on the same plane, so as to realize the high precision assembly.
The protective cover adopts plastic spraying process, and the carbon steel part is partially sprayed with orange and gray colors to make it beautiful and durable. All parts in contact with raw materials, oil and cake are made of stainless steel, such as the funnel of the feed inlet, the oil pan, the discharge port, and the oil separation groove.
The squeeze cage part is composed of front, middle and rear brackets, small support brackets, heating device, squeeze screw and screw squeeze components. The squeeze strips form a cavity, filled with squeeze snails, and fixed by the reinforcement ring.
The pressing screw assembly also includes parts such as adjusting screws, nuts and handles that can be used to adjust the cake thickness.
The electric control cabinet includes air switch, AC contactor, temperature controller, automatic circuit protection device and other components.
The vacuum oil filter part is composed of vacuum pump, steam drum, oil filter drum, stainless steel pipeline and other assemblies. The two oil barrels work in turn, and there are bolts on them to switch the direction automatically.
Parameters
| | | | | | | |
| --- | --- | --- | --- | --- | --- | --- |
| Model | Power(kw) | Diameter of squeezing worms(mm) | Squeezer speed( r/min) | Capacity(kg/h) | Weight(kg) | Dimensions(L*W*H)(mm) |
| 6YL-100ZD I | 12.1 | 98 | 49 | 150-260 | 900 | 2020*1315*1570 |
| 6YL-120ZD I | 16.1 | 120 | 49 | 260-400 | 1020 | 2060*1345*1570 |
| 6YL-150ZD I | 36.2 | 146 | 42 | 300-500 | 1820 | 2700*2910*1635 |
Features
1
Our team of experts has designed the new appearance, chrome-plated process, overall clean and easy to maintain, making it sleek and modern.
2
The base of our machine is solidly constructed, making it more stable and efficient during operation.The gears and frame support of our machine are made using advanced forging techniques, which make them durable and long-lasting.
3
Our core components, including the screw worm and squeezing bar, are precision-crafted with strict quality control measures, eliminating the need for break-in periods. The upgraded machine promises to boost production efficiency and improve the service life.
4
The upgraded oil press machine is equipped with more durable high-performance component materials. The press barrel are made of the manganese titanium alloy steel (20CrMnTi),with a rigorous carburization process to improve wear resistance and service life.This improvement allows our new machine to process 200,000 kg more oilseeds than previous model.
5
The cake outlet is made of chromium molybdenum vanadium (Cr12Mov), after quenching heat treatment process, the hardness can reach HRC60, which improves the wear resistance and high temperature resistance.
6
With our engineer's strict calculation of the compression ratio of the pressing chamber, our new oil press machine boasts a higher oil yield of 20-30% compared to traditional models.
7
Thanks to its advanced design, this oil press delivers exceptional processing results. Whether you're pressing nuts, seeds, or any other type of material, you can trust our new oil press to extract the maximum amount of oil possible.

Edible Oil Processing With Dingsheng Machine
Dingsheng Machine is a leading manufacturer specializing in edible oil processing solutions and equipment in China, we provide complete plant solutions for oilseeds pretreatment, solvent extraction, refining and deep processing. More than 20 years' experience, we are committed to optimizing technology processes, engineer design, project management, installation and training, help customer build the oil mill over the world. When you plan to build an vegetable oil processing plant, please contact us today to get the quote.
Email: company@dingmachinery.com, whatsapp: +86-159 3716 3029.