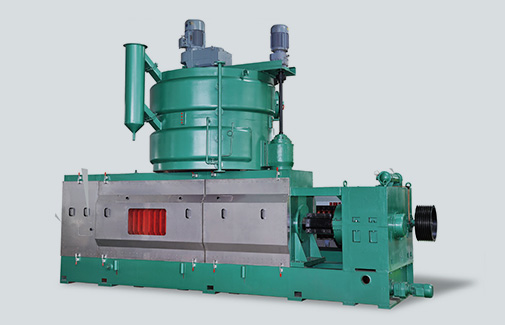 DZY338 Oil Press
DZY338 low temperature screw oil press machine is a large continuous screw press designed for oil mills by low temperature extraction process.Extraction oil for peanut kernels, cottonseed, rapeseed, sunflower seeds, Tung seeds, castor seeds, rice bran, corn germ and other oilseeds.
Description
DZY338 Low Temperature Screw Oil Press Machine
DZY338 low temperature screw oil press is a large-scale oil extraction equipment,extraction oil for rapeseed, peanut, corn germ, sunflower seeds, cottonseed, rapeseed and other crops.The embryo temperature is not higher than 80℃, both to ensure the low denaturation of protein in the cake, but also to ensure the high oil yield, it is currently the best model for large-scale low-temperature pressing oil plant.Large processing capacity, low power consumption, low operating cost, the cake structure is loose and but not broken,low residual oil rate, easy for solvent penetration.
Parameters
| | | | | | |
| --- | --- | --- | --- | --- | --- |
| Model | Capacity(T/D) | Dry cake residual oil rate | Power(kw) | Size(mm) | Weight(kg) |
| DZY338 | 150-300 | 13-16% | 185KW+5.5KW+11KW+1.1KW+0.75KW | 5950*1477*3250 | 17500 |
Features
1
High processing capacity,150-300T / D.
2
Dry cake residual oil rate is low, gross oil quality is good.
3
With transmission cooler, effectively reducing the transmission temperature, improving the service life
4
With electric cake adjusting mechanism can freely control the thickness of the cake、
5
Hollow shaft water cooling cake active protein, small loss, good color.;
6
Production line dedicated, easy to automate control, easy to operate, low maintenance costs.
Edible Oil Processing With Dingsheng Machine
Dingsheng Machine is a leading manufacturer specializing in edible oil processing solutions and equipment in China, we provide complete plant solutions for oilseeds pretreatment, solvent extraction, refining and deep processing. More than 20 years' experience, we are committed to optimizing technology processes, engineer design, project management, installation and training, help customer build the oil mill over the world. When you plan to build an vegetable oil processing plant, please contact us today to get the quote.
Email: company@dingmachinery.com, whatsapp: +86-159 3716 3029.