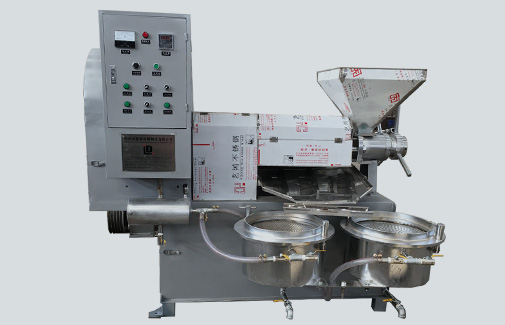 D-1685 Screw Oil Press
Hot sale model D-1685 Screw Oil Press Machine, is mainly used to squeeze oil crops with high oil content, such as sunflower, soybean, peanut, cotton seeds, mustard, cottonseed,mustard seed, and dried coconut. Equipped with electronic control device, temperature control, simple and easy to operate.
Description
D-1685 Screw Oil Press Machine with High Oil Yield
This screw oil press machine is mainly used for the pressing oil crops such as sunflower seed, peanut, rapeseed, soybean, cottonseed, mustard seed, and dried coconut. The equipment is equipped with micro-electronic control, vacuum filtration, three-stage pressing system,etc, and the alloy steel is carburized to improve the surface hardness and wear resistance of the pressing screw rolls. The screw oil press machine has the advantages of easy operation, labor saving, reliable performance, small footprint, wide use, high oil yield, energy saving, and pure oil quality,etc.
Parameters
Model

Power

(KW)

Heater Power (KW)

Capacity(kg/h)

Weight

(KG)

Overall Dimensions
(L*W*H)(mm)

D-60

6-3.0

2

40-60

290

1350*950*1170

D-1685

6-5.5

3

80-160

550

1700*1300*1600

D-1688

6-7.5

3.5

150-260

760

2000*1350*1750

ZL-120

6-11

4

260-400

915

2050*1400*1800

ZL-150

4-30

5

400-500

1550

2400*1500*1800
Because of the differences in raw materials and operating methods, the parameters are for reference purposes only.
Features
1
The surface of the oil press is treated with stainless steel and chromium plating to increase the hygienic level.
2
The pressing part is made of alloy steel with carburizing treatment to enhance the hardness and wear resistance.
3
Including vacuum filter system, to filter the oil residue ,reduce settling time.
4
Electric control system, automatic heating, stable performance and simple operation.
5
Wide range of uses, can press more than 20 kinds of oil crops such as sunflower seed, peanut, rapeseed, soybean, cottonseed, mustard seed, etc.
6
The footprint is small, the oil workshop only needs 10-20 square meters, the installation and maintenance are simple, the investment is small, and it is an ideal choice for the oil workshop.
Edible Oil Processing With Dingsheng Machine
Dingsheng Machine is a leading manufacturer specializing in edible oil processing solutions and equipment in China, we provide complete plant solutions for oilseeds pretreatment, solvent extraction, refining and deep processing. More than 20 years' experience, we are committed to optimizing technology processes, engineer design, project management, installation and training, help customer build the oil mill over the world. When you plan to build an vegetable oil processing plant, please contact us today to get the quote.
Email: company@dingmachinery.com, whatsapp: +86-159 3716 3029.