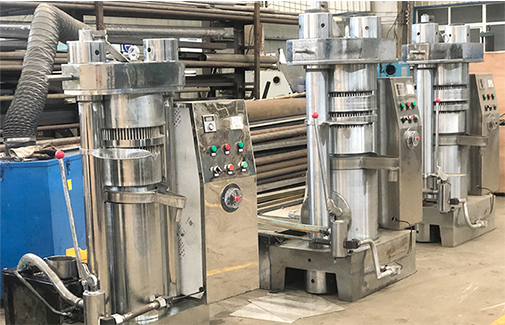 Cocoa Butter Extraction Line
Dingsheng provides advanced technology for cocoa butter processing, and the design and manufacture of cocoa butter hydraulic press machine conform to industry standards. Our completes solution help you improve high quality cocoa butter and cocoa powder within a minimum of cycles time.
Applications
Processing equipments for Cocoa Butter
Dingsheng provides high-efficiency complete sets of cocoa butter pressing production line equipment, from the cocoa bean processing to cocoa butter packing.

Cocoa Bean Cleaner

Remove ferrous metals, oversized pieces, debris, and stones.

Cocoa Bean Winnower

Remove the outer of shell from the beans to obtain the cocoa nibs.

Cocoa Bean Roaster

Roast the cocoa beans, reduce moisture content and destroy bacteria.


Cocoa Butter Press Machine

Efficiently produce cocoa butter from beans, during the pressing process, the cocoa liquor is separated through a filter screen, cooled into cocoa butter, and the pressed cake is discharged in a cake conveyor.
Process
Solutions for cocoa butter processing

Benefits
Benefits of our professional solutions for cocoa butter processing equipment
1
Separating cocoa butter and cake, based on patented cocoa liquor pressing technology.
2
Sturdy frame design, used high-carbon steel with high hardness and strength.
3
Temperature and pressure automatic control, simple operation.
4
Hydraulic pumps with long service life and very low maintenance costs.
5
Obtain high-quality cocoa butter, maximizes retain nutrients in the oil.
6
Pressing cycles are flexible and adjustable, with minimum time and maximum output.
Welcome To Visit The Factory!
Zhengzhou Dingsheng Machine Manufacturing Co., Ltd. has its own manufacturing factory. The company integrates design, manufacturing, installation, and commissioning, scientific research, sales and after-sales service. It has strong processing capabilities of various types of oil pretreatment, leaching, refining and separation equipment. The equipment is environmentally friendly and energy-saving, and the oil output rate is high. The professional engineer team will tailor the plan for you. Welcome to visit the factory!