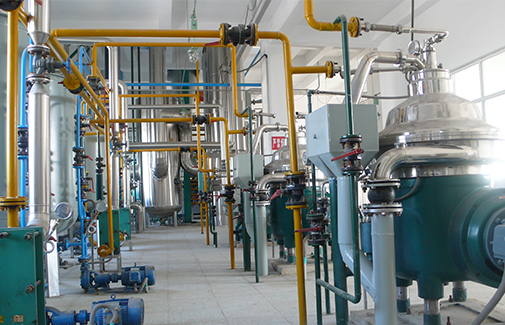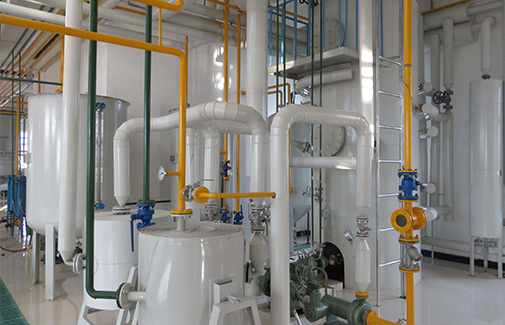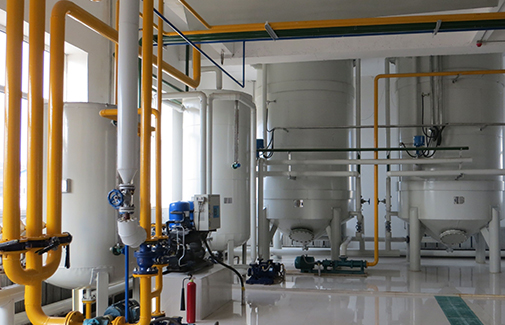 Soybean Oil Production Line
Dingsheng Machinery provides intelligent soybean oil processing and soybean by-product deep processing solutions covering the entire supply chain - soybean pre-treatment workshop equipment, soybean embryo leaching workshop equipment, soybean crude oil refining workshop equipment, soybean oil dewaxing, soybean protein isolate, soybean protein concentrate, soybean lecithin production line.
Applications
Applications and industries for soybean oil
Soybeans are used as raw materials through pretreatment and leaching processes to obtain soybean crude oil and soybean meal, the soybean crude oil is put into the market after advanced physical refining and dewaxing process. Soybean oil occupies an important position in the world's vegetable oil production and consumption, mainly in cooking oil, food processing, pharmaceutical and other industries.
The main compositions of soybean meal are protein and amino acid. We provide specific processing solutions to obtain low temperature soybean meal and high temperature soybean meal. Low-temperature soybean meal can be processed as raw material for protein isolate and protein concentrate, and high-temperature soybean meal is mainly used for animal feed。
A full range of advanced soybean oil processing equipment and technology processes, including advanced physical refining technology and soybean protein processing technology, recover higher quality soybean protein and fatty acids from soybean meal, and reuse processing by-products while increasing annual output. Our innovative solutions help factories realize the economic benefits of sustainable development. Contact us now to learn more about how our solutions and equipment can help you achieve long-term, reliable, and more profitable operations.
Technology Process
Solutions for soybean oil processing
1, Soybean pretreatment workshop process:
Soybean → Metering→ Cleaning→ Conditioning→ Peeling→ Softening→ Crushing → Flaking→ Drying→ Leaching
2, Soybean meal leaching workshop process:
Soybean flakes→ Wet meal desolvation→ Mixed oil evaporation and desolvation→ Solvent cooling and water separation → Exhaust gas recovery→ Leaching oil to refining workshop
3, Soybean oil refining workshop process:
Crude soybean oil→ Continuous degumming and deacidification→ Continuous decolorization→ Continuous deacidification and deodorization→ Cooling - deodorized oil to dewaxing workshop
4, Soybean oil dewaxing workshop process:
Deodorized oil → Pre-cooling → Crystallization → Filtration and separation → Refined oil
Benefits
Benefits of our professional solutions for soybean oil processing equipment
1
The complete set of soybean pretreatment equipment is full continuously and mechanized operation, ensure advanced process indicators, while reduces equipment investment, such as land cost, operating and maintenance costs.
2
The leaching workshop adopts the international level leaching system and low temperature desolventizing machine, achieve higher mixed oil concentration and lower residual oil. Reduce the amount of solvent circulation, energy and dissolution consumption, thus ensuring the lowest level of residual oil and dissolution consumption.
3
The fully closed operation system of the leaching workshop, the full negative pressure evaporation avoids oil oxidation; the separation of crude oil and solvent can be realized at a lower temperature condition, which ensures the quality of leaching crude oil, improves the refining rate and significantly reduces energy consumption.
4
The advanced physical refining process reduces the loss of refining oil and improves the oil quality. The by-products - fatty acids can be directly obtained, helping factories realize the economic benefits of sustainable development. There is no waste water pollution during the process, while meeting the environmental and health requirements.
Contact Us
With Dingsheng Machinery, we provide automatic, continuous and mechanized production conditions, which increased capacity while also reducing the level of product waste the production of soybean. The process design of the whole soybean oil processing project is reasonable, compact and elegant, to achieve lower overall operational costs and higher economic benefits.

Our technical experts provide technical guidance, service and training from equipment selection to proposal design when you have a project plan for the soybean oil processing plant. Contact us now to learn more about how our solutions and equipment can help you achieve long-term, reliable, and more profitable operations.


Welcome To Visit The Factory!
Zhengzhou Dingsheng Machine Manufacturing Co., Ltd. has its own manufacturing factory. The company integrates design, manufacturing, installation, and commissioning, scientific research, sales and after-sales service. It has strong processing capabilities of various types of oil pretreatment, leaching, refining and separation equipment. The equipment is environmentally friendly and energy-saving, and the oil output rate is high. The professional engineer team will tailor the plan for you. Welcome to visit the factory!